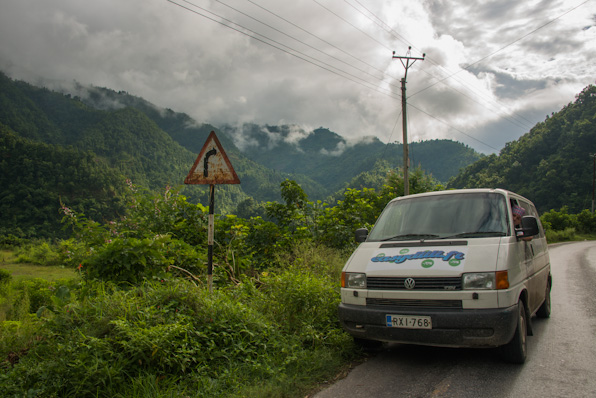 Before Lump had to go to the hospital here in India, we got to see a part of the lands most famous sights!
Our drive- through from Kathmandu to Udaipur took five days. Our style of progressing was very calm and light, because we only had two drivers, and just the two of us travelling was a lot harder than the three of us going. Besides we didn't have to rush anywhere, because the car wasn't due at the harbor until the ninth day of driving.
From Kathmandu to India
Leaving Nepal we had conflicting emotions. On the one hand it was nice to leave homewards, but on the other leaving Nepal after such a short visit was painful. The road was hot underneath us, and the travel homewards didn't get any shorter except than pressing the gas pedal.
We had time to get to Lucknow town before dark, and I have to say that the town was least noteworthy place of the whole trip. There was actually nothing to report, except the unpolite and cheating staff in an overpriced (35euro) rathole, that is called Capoor- Hotel.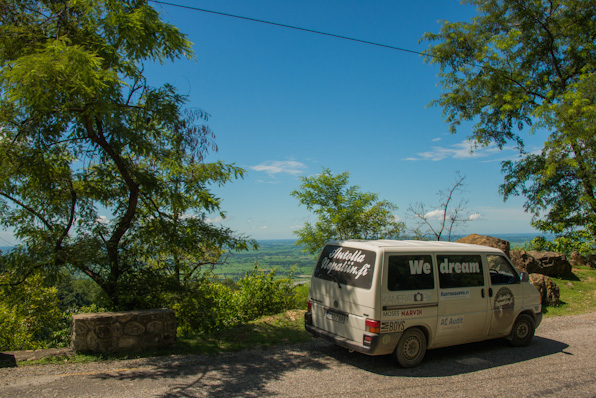 Agra
The next morning we stopped a little road right at dawn and we got into Agra before ten o'clock. We found a resting place that would suit our needs, a great hotel called White Inn, costing around 20 euro per night in the area close to the eastern gate of Taj Mahal.
I've always been skeptical on Taj Mahal, could it really be that fine? Now as I saw Taj Mahal the first time, I had to admit that it was perfect. Taj Mahal is symmetrical (a fact I have always been fond of) simply an incredibly beautiful building!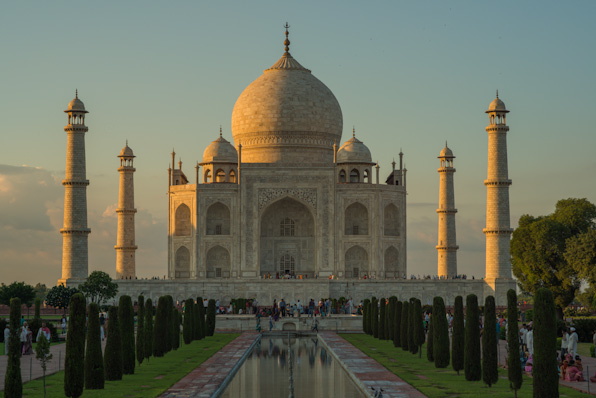 By the way it's worth going to Taj without anything. I mean anything, because it isn't allowed for any own belongings to be taken to the area. Naturally our "I dream"- sign didn't take us inside, neither did Misa's Rubik square, wooden animals bought from Nepal, game cards, nor even candy. Also the entrance was pretty expencive (750 rupies which is less than 12 euro), so you don't want to queue there many times.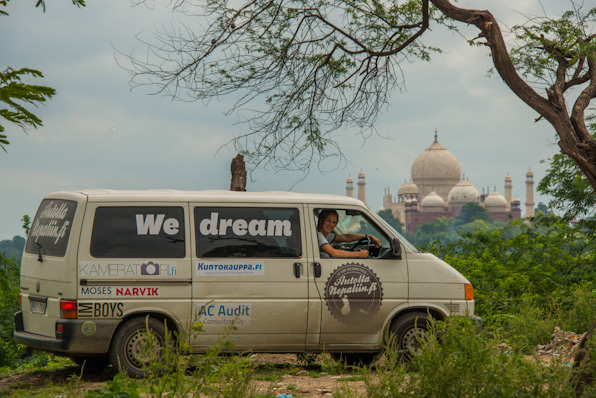 Jaipur
At least as fast as we drove from Lucknow to Agra we drove from Agra to Jaipur. In India it really didn't take long to drive distances, especially leaving so early, that trucks were besides the road sleeping.
In Jaipur we went to search for a place recommended by Lonely Planet, the Pearl Palace Hotel and when we heard that it is full, we got very disappointed. They advertised that they had opened another hotel by the same owner only a stone's throw away, so we went to check the situation.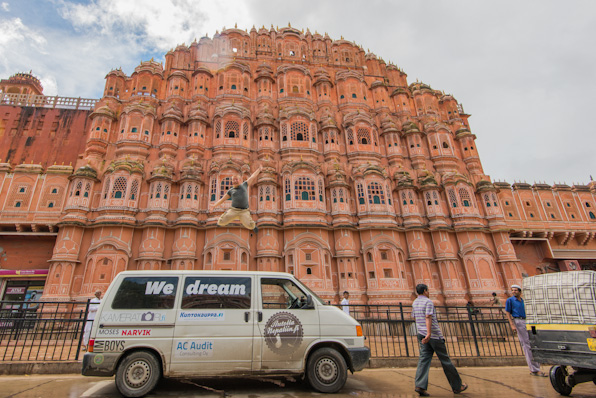 Oh boy, what a surprise waited for us in Pearl Palace Heritage! In India and in Nepal you get used to hotels being quite bad in quality or price. In Southern Asia there's no same kind of competition nor same kinds of quality standards as in Southeast Asia. The only hotels, which don't disappoint you, are the cheapest and most plain: booths with ceramic tiles, which include clean sheets and air conditioning.
The Pearl Palace Heritage was the first hotel in India, of which you felt that you got more than what you paid for. The hotel wasn't ready yet. The penthouse and the corner pool was still built, and that's why the price was 32 euro/night. The price will go up to 40 euro when the hotel get's finished, but that's why it's a top deal in India.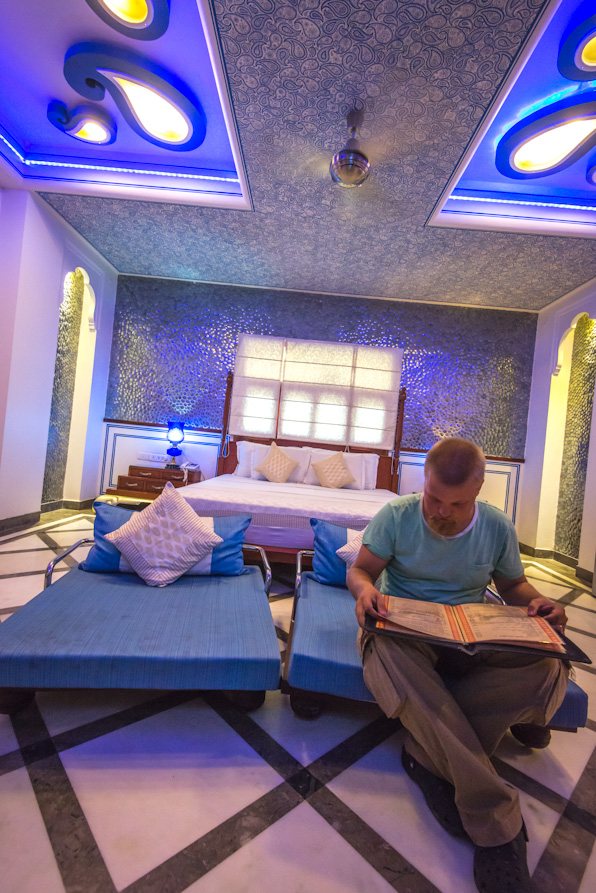 The room was bigger than an ordinary single room for students in Finland. In the bathroom there were columns made of marble and there was an even flow of water coming from the shower. In the room there was also an own computer and a relatively bid wide screen tv. Everything was crowned by a big decoration and top notch service. We decided to stay for the night and enjoy the rest wholeheartedly. We didn't even go out of our room during the first night!
The next day we went to resesrch Jaipur. The city is well known as coloured in pink. We thought the colour was more of orange, but it was unarguably nice to see something congruent in an Indian town. The sights of the town were soon seen, because lacking parking space we didn't go inside to circle around.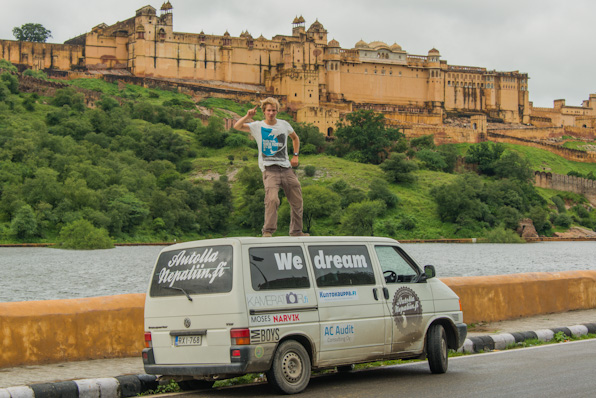 Udaipur
The drive to Udaipur went through green hills and marble quarrys. In Udaipur there were the narrowest roads, which we had encountered during the whole trip. Getting Lump back to the hotel took a two meter scratch to the right side.
Udaipur is advertised as the Venice of the east, and even though the city is left pretty far from Venice, there are some similarities. Udaipur is also known from the James Bond 007- movie Octopussy, where Roger Moore ventures in a palace in the middle of a lake, which is nowadays a hotel.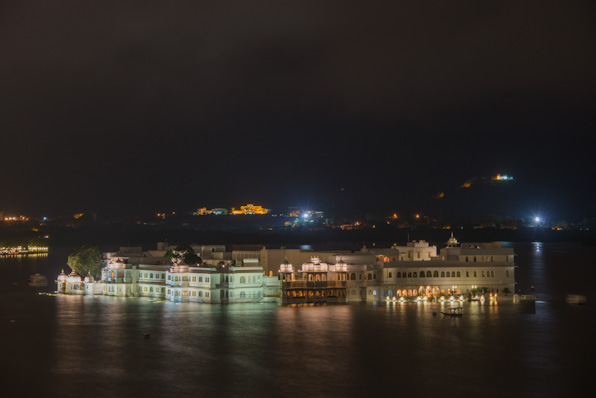 Udaipur seemed like a city, which you might enjoy a bit longer travelling in India. We only had 12 hours, because we had to drive 700 kilometres to Mumbai.
Here's some of Juho and Misa at Taj Mahal: