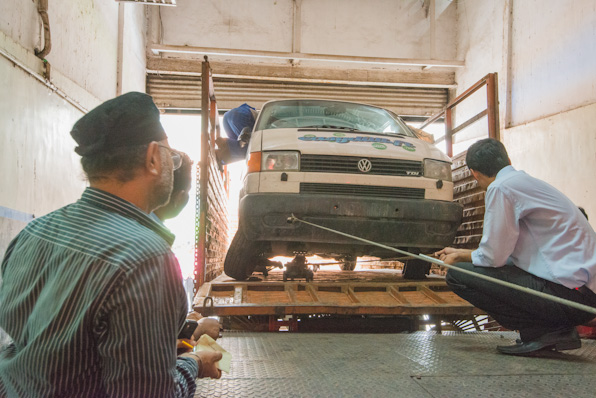 Sad lady
Heffalump was still sitting on the truck even though we had been at the Volkswagen service store yard for five hours already. She would have wanted to come down, but due to her sizeable dimensions combined with the damage done to her front limbs we couldn't get her down. We needed another crane truck that could lift the lady down on the ground.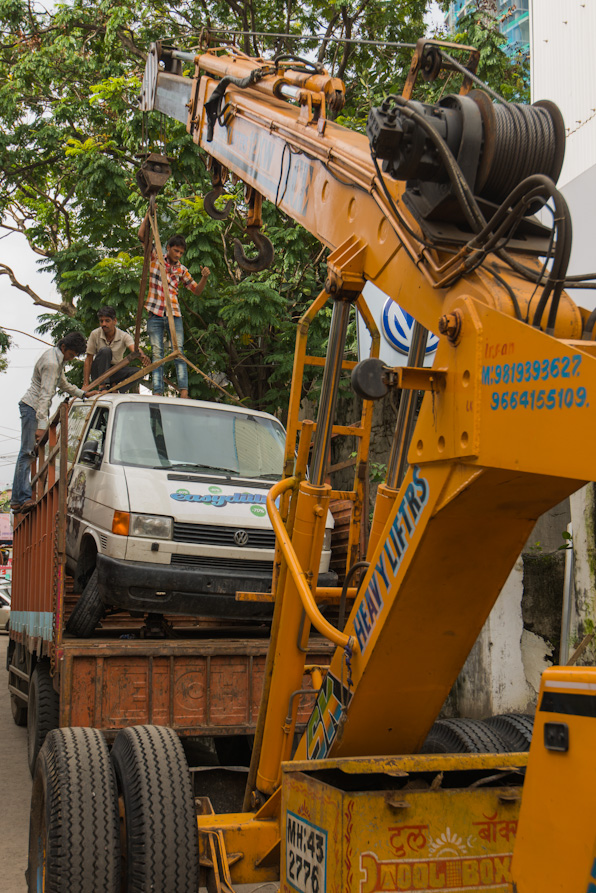 We still couldn't get the Lump all the way to the doctor's
office because in order to get her indoors, we needed to move her up a small ramp. For this operation we needed a different kind of crane truck and it took us another day to find one. In other words, the two days that we originally thought would be spent repairing the Lump, were spent getting her inside the service store.
Diagnosis
Volkswagen India doesn't sell Transporter vans. They only sell small Volkswagens and then of course big SUV's for the rich people! There just simply isn't a market for vans at the higher end of quality and price class in India, or the entire Asia, for that matter.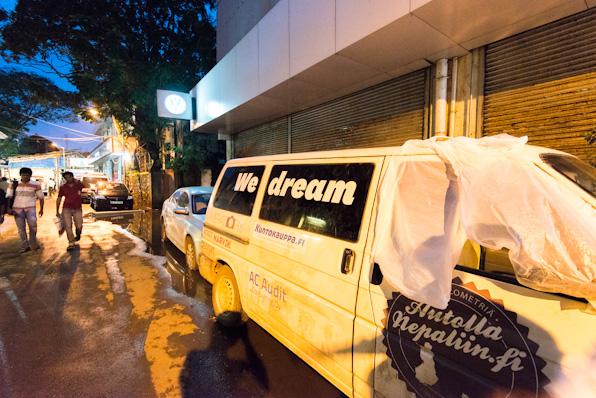 As a result, Volkswagen could tell what was broken but they could not have found part numbers in any other way but contacting VW Germany. It would have taken 15 days for the spare parts to arrive from Germany.
We didn't have time for that, because the road was calling and we wanted to get back home to tackle the everyday life issues there. So we decided to get the necessary spare parts from Finland ourselves.
In Finland
We took pictures of the chassis and posted them and the list of spare parts we got from VW service on our Facebook page on Wednesday. We got a huge amount of hints and advice from our readers really quickly. Additionally I want to thank those of you who shared our pictures and this way found more people with good advice for us!
VW Finland also contacted us thanks to you being in touch with them, and we got a lot of information and pictures of the chassis from them! The people at VW were extremely helpful!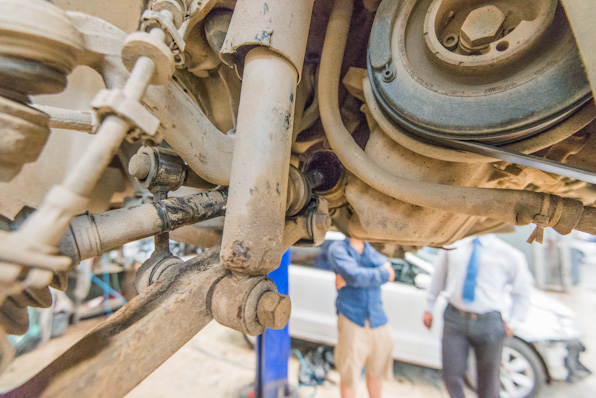 The Thursday hunt
On Thursday our task was to find the parts we had now recognized we needed from Finland. At first Mikael was going to travel to Rauma to get an entire van from there and have it taken apart for spare parts. An hour later we found a better option in Lahti and another hour later the best option from Kuopio. Now all we needed to do was to get the parts from Kuopio to either Tampere or Helsinki.
We started frantically calling people: who would have the time and the energy to make a 10 hour round trip drive during Thursday? We also posted on Facebook, asking if someone was on their way from Kuopio to Helsinki or Tampere in the south. And someone was, thank you Mikko for bringing the spare parts to Tampere!
On Thursday our main "hassler" Mikael Hautala made 51 phone calls and our sales man Joonas Malvisto made 26. The guys worked their butts off to help us get back on the road! Thank you!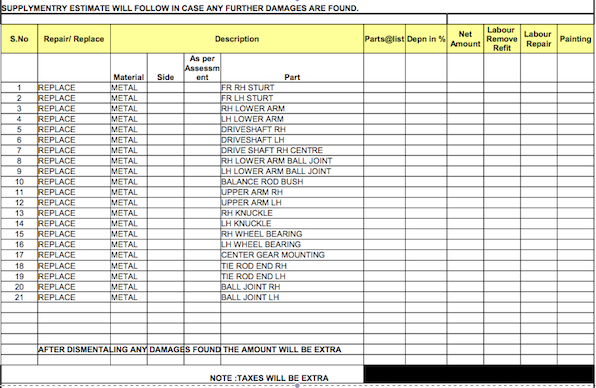 Future challenges
Today Friday the parts should be shipped via air freight from Finland to Mumbai. We're in a hurry because if and when the parts get here on Saturday, we could make it to the ship that leaves on Wednesday. If, however, the parts get here even a day late, we have to take the ship a week later.
Misa and I are ok in Mumbai, and that's why even two extra weeks here would not be the end of the world. We are staying with friends and we can eat twice a day at a restaurant with a mere 5 euros for the both of us. However, Misa should get back to school soon and I need to go back to work at Kameratori. I'm beginning to miss my wife too much, too!
To find out about the details of the air freight Joonas Malvisto is probably right now (early in the morning) driving to Helsinki from Tampere with the spare parts. We have negotiated with a couple of freight firms about the freight and today we'll find out which one is the fastest and cheapest option. We'll do our best to keep you updated about this!
Now I'm going to go talk to the Indian customs officials about whether we can use our Carnet de Passage to bring the spare parts into India without customs charges. The Indian customs are probably pretty much the most complicated in the world, so I'm sure I have a lot to find out!
I have to say that it will require a great miracle for us to make it to the ship on Wednesday. If, however, that will happen, I want to THANK YOU!
– Juho