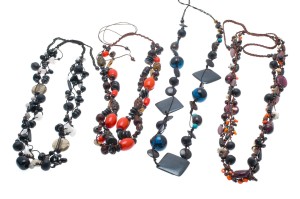 Foretaste of the Jewellery
We already have a small bag of showpiece jewellery from Nepal. (as you can see) . Before we leave, we"ll send pictures of these jewels for fashion bloggers to marvel. In case the bloggers like them, we hope to get more possible buyers from the readers of these blogs for the soon-to-be-opened jewellery shop. You"ll find find more pictures of the jewellery from our Facebook page. facebook.com/autollanepaliin
Missing Passport
The Finnish postal service lost my passport a few weeks ago. I thought that they wouldn"t find it, so I ordered a new one. (I had already ordered a duel passport). The missing passport was nullified and a new one ordered. I asked from the Tampere police station if the new passport could be sent directly to the Helsinki Airport police station so that Misa could pick it up from there and send it to me immediately. The day before yesterday, July 11th, I received a message from Misa: "Oh great, the same day I get your new passport, they find the old one from the post".
Broken Hard Drive
The day before yesterday the laptop hard drive of Janne, the programmer of the online jewellery shop, broke down. "Only" the partitioning indexes fell apart, so Janne said that he"ll be able to restore all the data. Today, after two days of trying, he stated that the data can"t be saved. Luckily only a two nights work was sent to bit heaven as Janne has primarily worked on his PC. Unluckily, he had spent the last two nights working on his laptop without making backups. The jewellery shop was supposed to be open today, but due to the hiccups with the hard drive, the opening Casino s4gambling.com/fi/ tarjoaa seka NetEntin kosketusnaytoille suunnitellut Touch-pelit etta Microgamingin mobiilipelit. is delayed for next week.
Juho returns!
Juho Leppänen,
the father of the idea, returns to Finland tonight. For our journey we need a Carnet de Passages, a customs document, and it would"ve been great if I had handled it while Juho was away, but these sorts of things are totally not my forte. Juho can deal with it the minute he comes back, because it takes two weeks for the document to be processed and we"re leaving in less than three weeks.
Mikael