Bishkek
Bishkek is a big town dressed in green. The streets are filled with big trees and every street has a wide space for pedestrians in front of the buildings. The leafy trees cover the buildings so well that it's difficult to find what you're looking for whether it's a money exchange office, a diner or a street sign. The lush green look gives Bishkek a peaceful and calming atmosphere. It was incredibly refreshing to just walk around the blocks seeing what there is and how locals live their day to day life.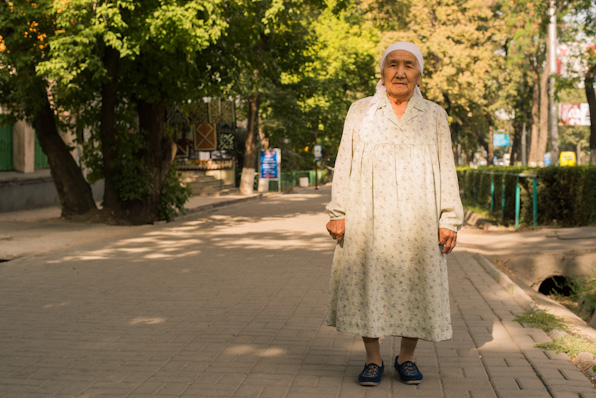 TIP: Kirgisia just removed the need for a visa for Finnish tourists so now you can easily enjoy this middle-Asian gem.
The capital of Kirgisia actually surprised us with a good selection of services; we found everything that we ever needed. Good restaurants and diners where the meals cost 2-4€ where right next to each other and the biggest shops had all kinds of supplies and foods. In addition we found a restaurant where they had nearly 20/20mb internet connection –  in a country where we didn't assume to be able to use the internet at all.
Efficient use of the internet
For the first time after St. Petersburg we had a stable and fast internet connection that we could use for hours. We had to use this opportunity and we posted videos, photos and texts from several days. We spent altogether 9 of the 12 hours that we were awake in Bishkek in that restaurant. Now later we have noticed that at least for another week after that we haven't been able to use the internet at all, so it was good that we used it when we had the chance.
We wanted to leave early in the morning to Naryn, that was 400 km away, but since Mikael needed time to finish and download one more video to Youtube we stayed in the restaurant until lunch time.
Delayed departure
We managed to leave Bishkek at about 1.30 pm to Naryn. We had been told that the journey takes 6 hours and we knew that it would get around seven in the evening.
We drove along the Bishkek plain towards the pass leading to the lake Issy-Köl. It was interesting to see how Heffalump would react to the first proper climbs – so far we had only crossed small hills in Ural.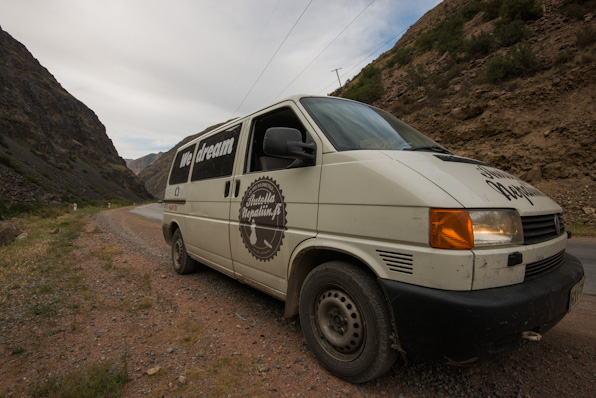 Heffalump didn't twitch at all even though we rose up to 3200 metres at best on the road to Naryn. The route was partly superb new asphalt but at those highest points it was even gravel road.
TIP: As long as there are trucks on the road that you are driving on you will also be able to get through the upcoming obstacles with your car, too.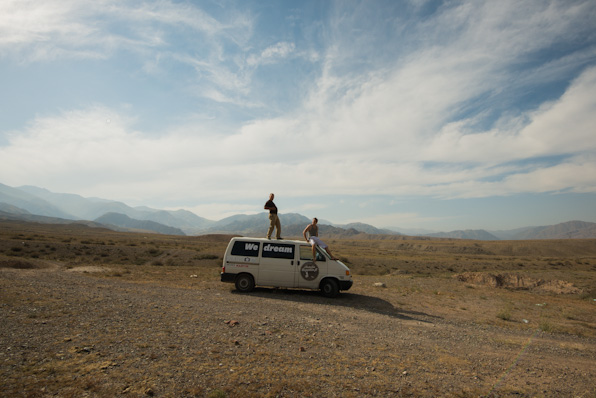 We were quite awestruck by the sceneries. Rico and Mikael hadn't even seen snow-capped mountains before and it wasn't an everyday experience for me either to drive in over 3000 metres. The terrain was also a lot different from any of the other mountain ranges that I had seen. The ridges were yellow, red, gray or even purple rocks when looked from afar.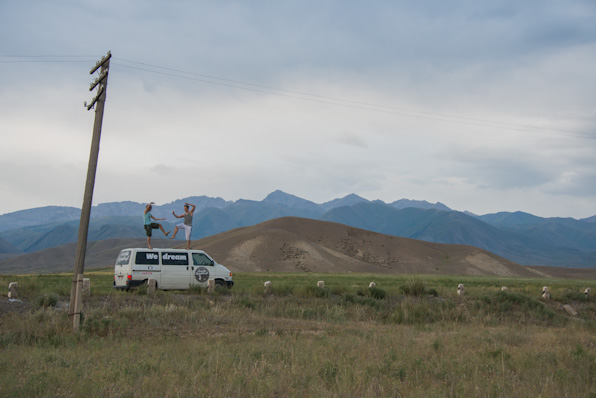 The valleys were lush and green summer pastures for cows, goats, sheep and even for a few yaks and camels. Sometimes you could see the road going upwards for several hundred metres and in a minute we got to see the same spot several hundreds metres below us. The surrounding ridges weren't steep or threatening but steadily rising. If the mountains hadn't been so close to one another and overlapping, they could have almost passed for fells.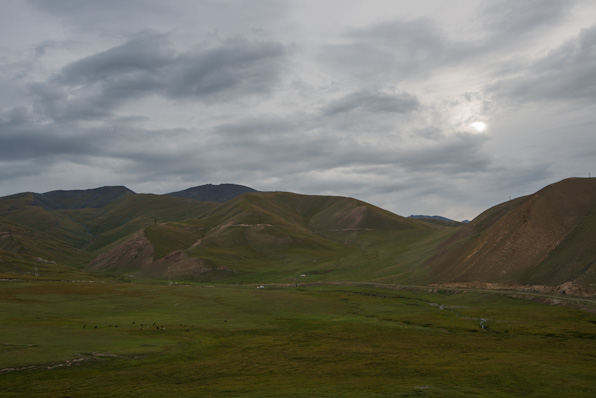 Naryn
When we arrived in Naryn the sun had already set. There are only a few minutes between sunset and total darkness in the mountains. Naryn didn't look at all like a quaint little village in the dark as it had seemed ten minutes ago in the evening sunlight.
We filled up the tank with diesel paying with our last somes (currency in Kirgisia) only to realize that all the money exchange offices were closed. Card hadn't been a valid method of payment since Russia so here we were; in a small town of a development country with no money, no place to stay at and no food for the evening.
Spending the night
We decided to ask the petrol station where we just filled up the tank whether we could spend the night in their parking lot. For a moment it seemed to be okay until we were driven away by someone higher up in the rank.
We moved on to the yard of the next best looking petrol station where we just parked without asking for any permission. We had already laid down trying to catch some sleep for about fifteen minutes when we heard a knock on the car window. The owner of the station came to say that we can't park there.
LESSON LEARNED: Check whether you can spend the night at the parking lot before you choose which station to fill the tank up in. As a customer you have a much better chance of getting permission than as a passerby with no money.

After a small negotation and a small note we got the permission in the end to stay the night at the station. We had been trying to sleep for about half an hour (except Rico who always falls asleep like a baby on the same second that his head hits the pillow) when we heard the next knock. Our best guess was that now we probably really need to move.
It was the daughter of the petrol station owner that was knocking. She wanted the contact details of Mikael. She wanted to practice her English, which was already of a high standard locally, and she absolutely needed a phone number or an email address for that. Mikael has at least one fan in Kirgisia now!
In the end we fell asleep and woke up at sunrise (to the sound of the rooster) in order to move on. In the morning when we woke up we realized something that would have been nice to notice on the night before. The petrol station where we had spent the night at was not a 24hour statios but the station, its lights and cameras had shut down shortly after we fell asleep. In other words it would have been exactly the same thing if we had parked on the main road of the town. That thought woke us up quickly.