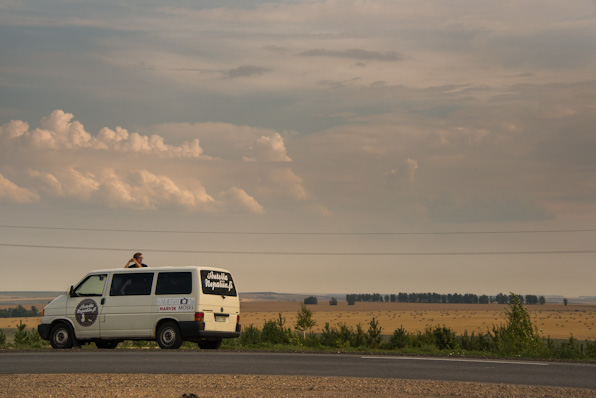 Days 4 and 5: Moscow – Kazan – Ufa Our journey continued with an early morning start from our hotel, west of Moscow. We discovered first in the morning that the two-month flat rate Internet package we bought in Vyborg had run out of credit. It was a bit of a struggle to get the video uploaded for you all to see, but before long we succeeded. Luckily there was only scarce Sunday morning traffic on the ring roads around the city. On a regular business day we would have spent hours in the traffic. We were 800 km away from our next overnight stay, Kazan, so we knew it would be a long day. Not long into the trip, we hit the first rain that made the rutted asphalt road a real water slide for our vehicle. I suspect she even enjoyed the cool water, although she was sometimes clearly unnerved with larger cars splashing water on her face from the overtaking lane. There was hardly any scenery to mention during the entire day and the road was in quite a hazardous condition, especially half way down the journey. PROTIP: If you want to have a driving holiday, avoid main roads. Surely they will help you reach your destination quickest and they have more service stations, but you won't be getting any scenery and their pace is just too hard for a stress-free drive. We arrived in Kazan late in the night and had to drive the last 60 km in the dark. Luckily, our Kazanese exchange student contact had arranged an English speaking homestay family for us, so we made a stop at a fast food joint and entered the address on the mobile phone map.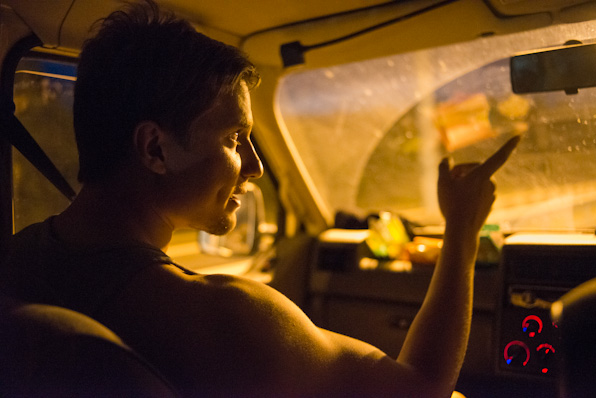 After the day we were all hungry and exhausted. Our spirits reached an all time low after a 14-hour drive. The only comfort was the fact that Ufa, our destination of the following day, was only another 500 km further on. Kazan – Ufa We slept a little longer over the night (8 hrs) so that the burdens of the journey would not weight us down as much on the hardest stages of the trip.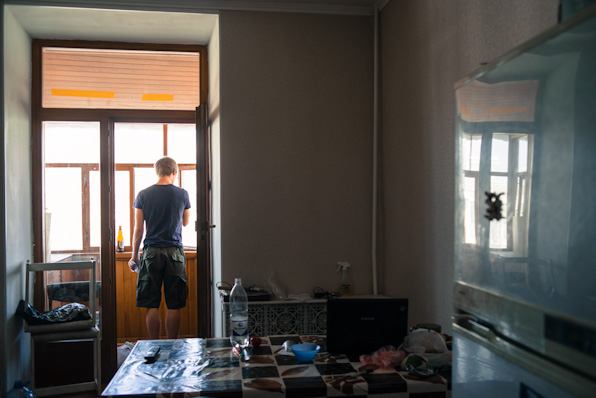 In the morning we had about an hour to sightsee in Kazan and admittedly, there is a youthful charm to the city. I can fully understand why Finnish ice hockey players like to play for AZ Kazan; as a city to live in, Kazan must be top-class! PROTIP: If exploring Russian cities tickles your fancy, the rail network is also immensely extensive although it can be slow. The journey continued to another ice hockey hub, Ufa, in a perfect
weather and the first breathtaking scenery of the trip. Flat expanses of ever so slightly rolling fields were to be seen by miles in each direction. Majestic clouds and magnificent road conditions crowned the journey.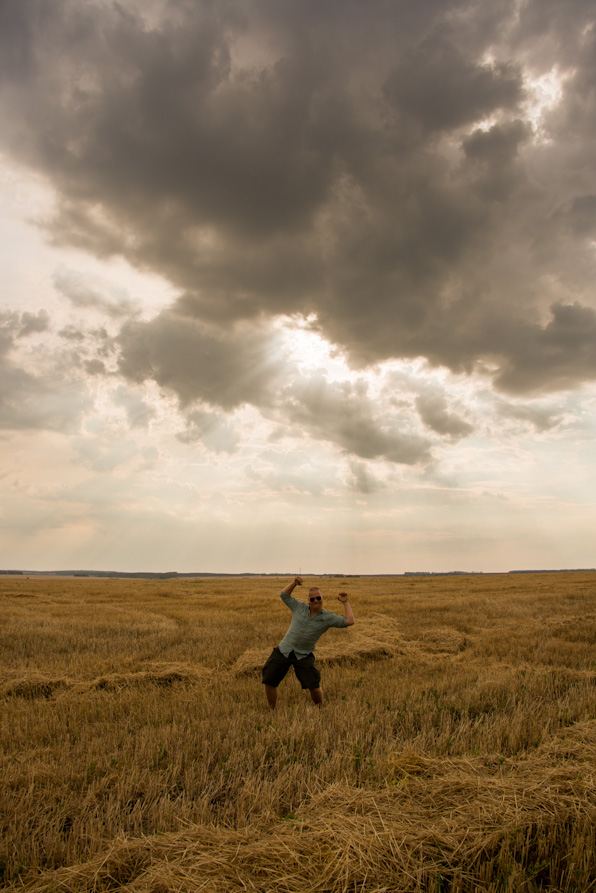 We found ourselves in Ufa at 7 p.m. – or so we thought. We had driven across two time zones without noticing and in fact it was 9 p.m. already. We had no place to stay nor a dinner in sight. Ufa In the last remaining light of the day we decided to go dreamhunting with our "I dream" sign on the monument hill by the river. For half an hour we searched for English
speakers amongst hundreds of people and couldn't find a single one. We were hungry to the bone and a slight worry about where to sleep was starting to vex us. I was ready to give up.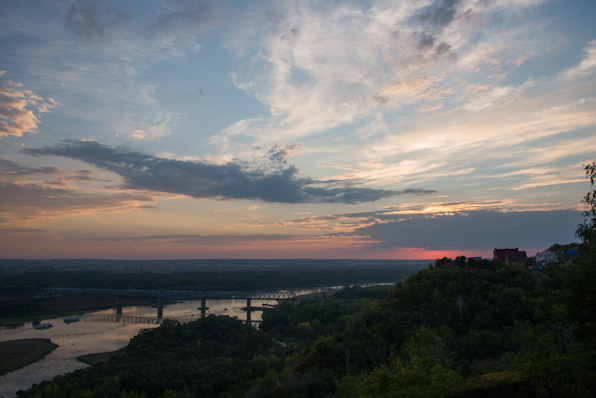 I was stuck on my feet, the sign in one hand and a camera in the other, while Mikael still kept looking. I closed my eyes and decided it's time for quits when suddenly I was surrounded by a group of young people who said in clear English: "We want to be a part of your project." The group of friends found us a place to crash, showed us around the city and took us to dinner. The sacrificed their time to make our night in Ufa the best possible. The city itself didn't impress me much, but its people surely did!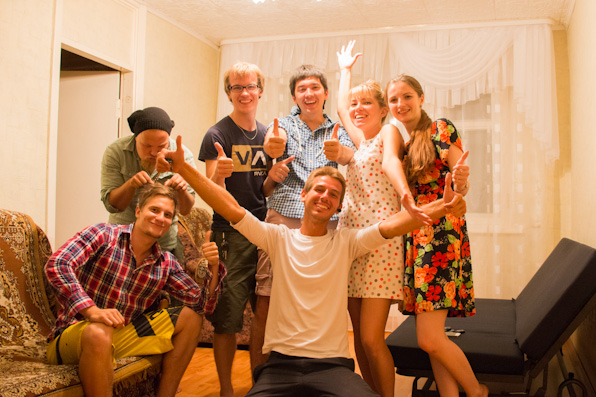 The night We slept in a soviet era blockhouse that had a stuffy aqua colored staircase and tight metal doors with magnetic locks on each door. Our local friends had been super friendly and reliable but when Rico heard the door open at 4 a.m., there was the scariest, most heartbreaking brutal alarming scream I have ever heard: "JUHO, JUHO, JUHO!" Mikael stormed up, ready to fight the entire Ufa mafia with his 50 kg body mass. Rico was ready to pounce whatever might have been attacking them from the hallway.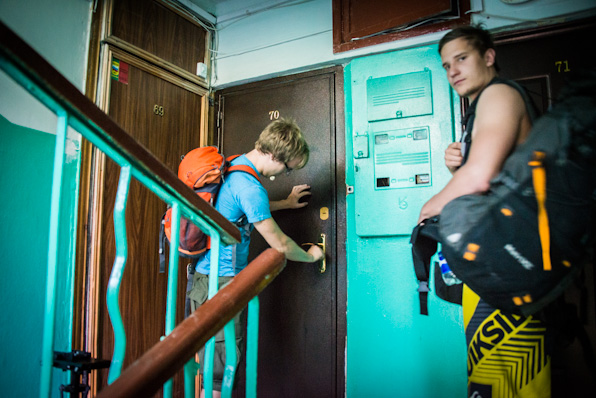 What about me then? Well, first of all I was scared half dead of Rico's scream and started screaming back: "WHAT, WHAT, WHAT?" Then I ran from the hallway into the flat to marvel at the amount of testosterone floating in the air. I had woken up at night thirsty and all the water bottles were in the car so I had gone to get myself one. The whole scene went from an aggressive fear to a laughing fit that it will live in our minds forever, although certainly not as vividly as Rico's frantic shrieks. We went back to bed, hearing the neighbours' faint murmur through the walls. The episode must have woken up the whole house. Rico said he was unable to get any sleep at all – the havoc had awakened every cell in the poor man's body. In the next update we will conquer the Urals!